This page is currently under construction
Curriculum
Rationale
At Bredhurst we have implemented a rich, engaging, bespoke curriculum which meets the needs of all our learners. It covers the aims and objectives from the National Curriculum in a creative and inspiring way. Our curriculum is encompassing, varied and is full of meaningful learning opportunities. Our intention is for our children to learn and grow through the guidance and love of God, leaving Bredhurst 'knowing more'. We aspire for our children to be knowledgeable with the ability to speak confidently across a range of topics and be excited about the world we live in.
We teach in a very cross curricular way, embedding our learning, our geography and history based topics are interlinked with our English texts and learning. The children are highly engaged as their learning is intrinsically linked. They are able to apply the skills taught effectively across the curriculum and to a range of subjects. We do not teach in isolation but ensure our teaching has meaning and purpose. The knowledge taught in history is transferred to the English, deepening and widening the understanding across both subjects. This approach is highly successful at creating highly motivated learners.
As we teach in mixed age classes, our foundation learning is not taught as separate year groups. Our children are taught different topics according to the class they are in. We have a cyclical approach to our learning so we can build upon previous learning, therefore children's knowledge and skills build and develop overtime. Our whole curriculum is bound together by both the school's Christian values and the British values which are fundamental in making us such a positive, successful community of learners.
Above all, our curriculum is designed to help every single child to: enjoy childhood, strive to be the best they can, persevere in their learning and become future citizens who will impact positively on society.
To find out more about our engaging, inspiring curriculum follow the links to our class pages where you will find our termly overviews.
Early Years Foundation Stage
Within EYFS we provide opportunities for children to be unique and encourage them to be resilient and to develop their confidences. The environment they learn in needs to accommodate their needs and enable them to learn in different ways.
As practitioners we provide stimulating resources relevant to all children to encourage rich learning opportunities through play and teaching. Provisions for children to take risks and explore their own ideas allow them to be active learners whilst encouraging them to be creative and to think critically.
The wider curriculum topics are generated from pupil interests and the planning of these topics are led very much by the pupils themselves. Each term has a different emphasis, although each curriculum area is available to pupils through our continuous provision.
Using the Early Adopter Handbook guidance the children will be learning under these profile headings:
Understanding the world – Past and Present, People, Culture and Communities, The Natural World.
Expressive Arts and Design – Creating with Materials, Being Imaginative and Expressive
Mathematics
At Bredhurst we strive to make Mathematics fun and engaging for our pupils. Lessons are taught to mixed age classes and we encourage pupils to use a selection of manipulatives to explore different aspects in maths across the whole school. We promote a CPA approach to our teaching – Concrete – Practical- Abstract methods. The outcomes from the National Curriculum are adhered too and pupils are regularly assessed against these.
Every day pupils are encouraged to recall number facts across the four operations as well as exploring different ways this knowledge can be applied in a variety of real-life contexts. This helps to develop their fluency as well as encouraging them to make links across the areas within mathematics and in other curriculum subjects.
To support our planning in maths we use variety of resources, but mainly White Rose materials. Children from Year 2 upwards also have access to 'Times Table Rockstars' website which also supports speed and fluency in recalling multiplication facts.
Link to National Curriculum
Reading
Fluent, confident word recognition and good comprehension skills underpin learning at all ages. At Bredhurst School, we begin our children on their reading journey within their first weeks of schooling with an interactive approach to phonics teaching using Letters and Sounds. The children experience a range of fun activities that encourage them to explore sound making and letter formation that lead to phoneme and grapheme recognition in books and writing around the classroom.
Using the Collins Big Cat reading scheme within school, supplemented by a range of phonically decodable books – Jelly and Bean, Bug Club, Engage literacy - that can be used at home, we encourage our children to quickly see themselves as readers.
As the children become more confident readers, they can start to make independent choices about their reading from book banded books whilst children who still need the support of a scheme will continue to read Big Cat books.
Within all classrooms, the children have access to a wide range of age appropriate books and picture books. They hear stories and texts read by the adults in the class. Every term each class uses different texts to lead the writing which gives the children the opportunity for in depth study about how authors use language to create characters and settings or explore themes.
For children who do not make progress with their reading at an appropriate rate, Dandelion books are used to fine tune their reading experience to the particular phonemes and graphemes they need to practice so that by the time our children move to secondary school they all have the confidence to read a range of different texts and continue on their learning journey.
Key Stage 1 Reading Scheme
In Key Stage 1, we use a variety of reading schemes, which are mainly phonics based. We use a combination of: Jelly Beans, Phonics Box (Alpha Blocks) and Oxford Reading Tree.
| | | |
| --- | --- | --- |
| | | |
| Jelly Bean | Phonics Box (Alpha Blocks) | Oxford Reading Tree |
Writing
Science
Understanding Faith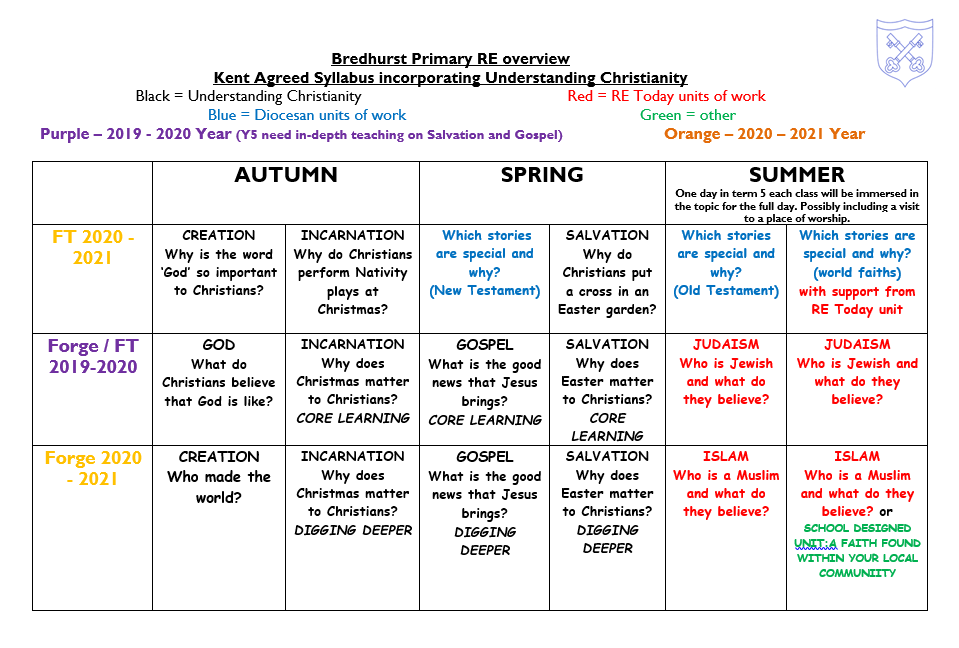 The Kent Agreed Syllabus Incorporating Understanding Christianity
This can be downloaded by clicking here
Modern Foreign Languages (MFL)
Key Stage 2 Only
Computing
| | | | |
| --- | --- | --- | --- |
| | 100 Computing Lessons | Purple Mash | |
Relationship, Health and Economic
Blurb
Link to overview
Topic
The approach we have taken in planning the outcomes of our curriculum and delivering it, is rooted in how we teach our Understanding Faith learning. We realised that taking a three- tiered approach worked for our children and develops them into becoming evaluative thinkers who take knowledge, consider its impact and then think about the connections; this led to us developing a bespoke curriculum in which our children are able to use this same tiered approach in all of their learning. This approach is embedded for our children.
Understanding Faith is structured in such a way as to develop critical thinkers who relate learning from Christianity to the world and themselves. They do this by firstly, making sense of the text (reading and understanding Bible stories and teachings) next, understanding the impact (what does this mean for Christians and non-Christians? How does it impact on their lives, beliefs and thoughts?) and finally, making connections (linking their learning and making connections between the knowledge, impact and the wider world and contemporary issues).
Within our wider curriculum, we often use an overarching question for our topics. We choose questions which require children to take on new knowledge, understand the impact of that knowledge and then make connections with it. Within our learning sequences, learning builds; starting with the knowledge the children need in order to apply skills, to being able to understand the impact and make connections within and across topics.
In KS1, the learning is often structured so that the lessons build from knowledge, to understanding the impact and culminating in making connections across the course of the term. The worked example below demonstrates this.
Worked example 1: Forge – Term 1 – sequence of learning across the term
Learning the Knowledge : Learning about superheroes and their qualities, what makes them different from ordinary people, why are they 'super'?
Learning about Florence Nightingale - when did she live, what did she do, why did she do it, what changes came about because of her?
Understanding the Impact: What people in our lives are like superheroes? How do we feel about them? What makes them super?
" My mum is a super hero because she looks after me and makes me happy."
"A vet is caring and helps animals who are poorly."
Because of what Florence Nightingale did/introduced in hospitals, how did this make them better/improved?
Making Connections: How was Florence Nightingale a superhero?
How are Florence Nightingale, a mum, a vet and Spiderman alike?
In KS2, where is appropriate, a three- tiered approach will be taken across a sequence of lessons but also within lessons.
Worked example 2: Oakwood – Term 1 - a single history lesson
Learning the Knowledge: Learning about education during the Victorian period and the introduction of Ragged Schools. What were Ragged Schools like, why were they established, who were they aimed at and what was their purpose in society?
Understanding the Impact: What impact did the establishment of Ragged Schools have on the working class? What did Dickens say about their impact? Did they achieve what they intended to? Why/why not?
Making Connections: What would society have been like if education wasn't made compulsory in 1870? How can you connect the need for education for all, particularly the working class, and the characters and settings Dickens used in his novel Oliver Twist? Why did Dickens decide to present his findings and persuasions about education in the way he did?
We carefully consider what learning the children record to ensure it is meaningful and valuable to them, capturing their understanding of the learning. The knowledge is built together as a class and is often displayed on our topic learning walls for the children to refer back to throughout the topic. It is the impact and connections we focus on the children recording as this is what we know they very much enjoy and what challenges their thinking.
EYFS and Key Stage 1

The wider curriculum in Key Stage One builds on the knowledge and learning which has taken place in EYFS. Through guided interactive experiences
children explore an interlinked curriculum that is tailored to their interests and needs. These first hand experiences are intrinsic to the development of knowledge and basic skills

Thumbnail and link of Rolling Programme

Key Stage 2

The wider curriculum in Key Stage Two continues to develop the knowledge and learning which has previously taken place. Through a broad range of experiences children are immersed in a creative and engaging curriculum which is inclusive for all. Children are given many opportunities to develop their own perspectives, generate their own questions and become critical thinkers.

Through this approach our children thrive as independent, confident and avid learners who are ready to embark on the next stage of their learning journey.

Thumbnail and link of Rolling Programme

Fir Tree

Forge

Hurstwood

Kemsley

Oakwood

Mind Map

Mind Map

Mind Map

Mind Map
All children in Early Years and Key Stage 1, have daily phonics teaching. We use a combination of schemes. In Early Years we start our phonics learning using Jolly Phonics. Children in Year 1 and 2 are taught using Letters and Sounds.