Fireworks at Bredhurst
Fireworks at Bredhurst
20 November 2023 (by admin)
On Friday 17 November, we held our annual firework display...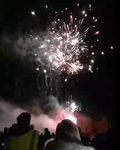 Our firework night was a great success. It was lovely to see everyone enjoying hot dogs and drinks before the event.
The children loved their light up toys, smarkling in the darkness out on the playground.
The fireworks started @ 7 and lit up the clear sky beautifully in what was a tremendous atmosphere.
A big thankyou to everyone that helped make the evening enjoyable.
"The fireworks were very good. They shooted up in the air - bang, bang, bang."
Regan - Year R
"I liked the pink fireworks. I bought a flashing stick."
Evelyn - Year R