Lego visit and competition
Lego visit and competition
15 November 2023 (by admin)
On Thursday 9 November, two of our year 6 children, along with Mr and Mrs Hewitt, attended a Lego Education demonstration hosted by Educa, the educational division of Sota and Getech.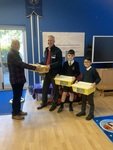 During the visit they used Lego Education kits and built an interactive model campsite that could detect different types of monsters and warn the campers both visibly and audibly. The children and Mr Hewitt thoroughly enjoyed the experience but not so sure about Mrs Hewitt!
The purpose of the Lego kit is to interactively bring out learning points in the STEAM curriculum and comes with over 40 ready planned lessons. As part of the event, we were entered into a draw to win 3 Lego Education sets worth almost £1,000 in total and we were extremely lucky enough to win them!
Chris Geary, the Education Business Manager from Educa, visited the school and presented them to Mr Hewitt and the children on Wednesday, 15 November.
More pictures are available on our gallery page.