MYG Basketball
MYG Basketball
8 November 2023 (by admin)
Mini Youth Games Basketball was held at Medway Park on 8th November.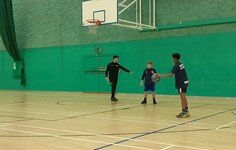 Representing our school was Luca, Luke, Elliot, Mikel, Holly, Iris and Neriah. We won many matches, drew 1 and lost 2. We ended up 6th out of 27 schools. Well done team!
The highlight of the day was meeting Ryan Reynolds, an NBA player. All the children obtained his autograph and had a team photo with him.
At basketball we played eight games. We did well in all the games and finished in 6th place out of 27 schools. Some of the schools were easier to beat than others but overall we enjoyed the day and we are happy with our score.
Holly - Year 6
Visit our gallery page for more pictures of the event