Cross Country - Race 1
Cross Country - Race 1
8 November 2023 (by admin)
The cross country event is a series of races where the same children take part. The first cross country event this year was held on 22nd November at Cliffe Woods Primary School.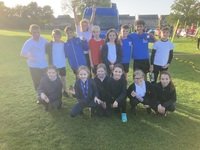 The day started very wet with all the children soaked before the start.
Year 4 boys and girls ran 1km with the girls team finishing 1st and Kairo finishing 1st for the boys.
Year 5 and 6 boys and girls ran 2km which proved very challenging. MIkel regained his title of 1st place with a time of 7.01 minutes.
All the children ran a brilliant race showing perserverence and resilience - Well done to all the children.
It was really fun and it was a bit hard beause there was a hill. It was really muddy. The year 4 girls won a trophy. I ran in the year 5 girls and came 6th
I enjoyed it and would like to do it again.
Jessica - Year 5