Rochester Cathedral and the Peace Doves - 14th March
Rochester Cathedral and the Peace Doves - 14th March
20 March 2023 (by admin)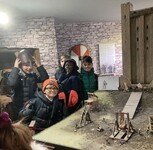 Mrs Place arranged a lovely trip for us to Rochester, where we visited the Cathedral, Museum and the Castle.
In the Cathedral we saw the stunning display of doves. The children all took part in workshops where they learned about both the cathedral and the peace project. They also visited the Guildhall Museum, where they were taught what life would have been like for prisoners held in the hulks and then the castle where they learned about how the castle would have been a fortress, protecting the city.
We had some really lovely comments from the staff, that ran the events for us, about how well behaved our children were. They also commented on their good manners and that they had asked thoughtful questions. We are so proud of our children.
We went to Rochester Cathedral. The cathedral was shaped like a cross. It was calm and quiet inside. We learned a story about Noah's Ark. Then we went to the castle. It was a square shape and we went up lots of steps. We saw some people who told us what it was like a long time ago. We went to the museum where we looked at pictures. We learned about Charles Dickens who used to write books. I enjoyed it because it was fun.
Freddie - Year 2
The doves made me feel calm and relaxed. I like the colour purple because it made me feel relaxed.
Ava - Year 3

The Doves
I liked the green and blue lights when it shone on the doves. It made them look really peaceful. There were so many which gave it a calm feel. I really like them and I liked it that loads of people had put their messages on them.
Holly - Year 5